Hello,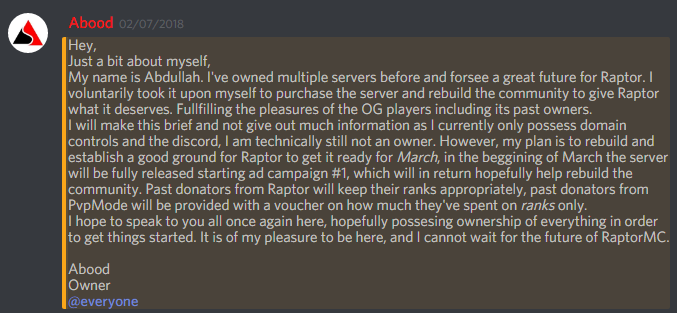 This post is probably the most awaited upon thread that Raptor will ever receive. Throughout this thread most questions should be answered, along with information on the upcoming return of RaptorMC.
Before I get into anything... Let me make it clear that RaptorMC will be returning on:
28th February @ 4PM EST 2018
keep up to date with this timer - http://itsalmo.st/#raptornew
Now that the SOTW information is out of the way, I thought I'd give a bit of an explanation of what is actually going on.
Basically, after previous poor ownerships and failed attempts at bringing back RaptorMC I have taken it upon myself to purchase the server and bring it back to the golden age it lived through. Making SOTW on Feb 28th gives the OG/loyal players a full 24-hour headstart before March 1st, where all the new players will hopefully be coming in. Furthermore, I do hope the current community may give me a chance to prove myself as I will not let you down... we are not gonna depend on the current community for anything which includes playerbase rather rebuild the great community that once lived with new players.
Hope that clears that area up, now to get onto the fun details!
Basic Info
Version: 1.0 | This will be known as season 1 as the new journey begins...
MC Versions: 1.8 - Latest
SOTW: http://itsalmo.st/#raptornew
IP: play.raptormc.net
Discord: http://discord.raptormc.net
Borders
Overworld: 8500x8500
Nether: 1500x1500 (flat world)
End: 1500x1500 (flat world)
Faction Top
Previous FTOP events were a disaster from what I've heard from the community, therefore we will go ahead and use the FTOP plan created by Lerqz for failed season 3 and try it out to see how it'll work for the upcoming season, however, there will be a couple changes. The following will be the weekly FTOP paid to the top 3 factions, however, we will have a final FTOP prize at the end of the season for the #1 faction only. More info on that will be when the end of the season approaches.
* 1. $75 Paypal / Weekly
* 2. $50 Paypal / Weekly
*3. $25 Paypal / Weekly
Previous unpaid FTOPs will not be handled by the new ownership and unfortunately, nothing will be done about them. As I've stated, this is a new age for Raptor and we will not be heading backward.
The first Faction Top payout will commence on the 16th of March 2018 (best of luck!)
Server Features
- TNT will be disabled until the 9th of March! Creepers will also not explode during this time.
- Spawner Tiers are now introduced! This gives people the ability to rank up their spawners with XP, now giving people a reason to "grind" for XP again.
- Players now have the ability to monitor their faction more with /fperm (type 2 times to activate)
- There will be daily KoTHs happening in the nether and end giving of new rewards, more info via discord.
- /Genbucket now gives you the ability to buy sand/obsidian genbuckets!
- DShop is now back
Before SOTW the store is currently open with a launch sale of a whopping 65% OFF
Stay tuned via http://discord.raptormc.net to know about future and current sales.
On top of this, some packages have changed prices, which includes the lowering of rank prices.
I don't have much to say besides a thank you to @Lerqz (I stole this thread template)..
Anyone who has previously purchased a rank on Raptor will receive it back upon release, however some Predator and Vicious (now Jurassic) ranked players may be effected, please join the discord for more info.
On behalf of myself and the new team, we hope to see you there.
// Abood